I started it several months ago.
I had a feeling I would enjoy playing Mass Effect.
This past Winter I snagged Mass Effect on the cheap from Steam. A few months after, I found Mass Effect 2 in an awesome Humble Bundle.
After two friends of mine highly recommend that I take a crack at it, I started Mass Effect after completing the Half-Life series.
I was hooked.
Mass Effect brought together several game elements that I enjoy and added a few others I hadn't ever experienced before:
RPG elements
Action
Deep storyline
Immersive environments
Ability to create and import your custom character to Mass Effect 2 & 3
And more!
The RPG NPC dialogue system works much like a "choose your own adventure" book from the 80's. Choices made in Mass Effect will change your game and storyline experience in both Mass Effect 2 & 3, and choices made in Mass Effect 2 will do the same in the 3rd and final game.
Amazing, right?
It is.
You can also make decisions and take actions that develop your character to be "really good" or a "renegade." Not really good or bad, but how he or she (your choice) is perceived by others. In fact, the dialogue with other characters in the game changes even based on the sex of the character you create!
Take note: There's a lot of dialogue, cutscenes, and talking to NPC—like every good RPG should.
And if that alone doesn't give this game serious replayability, the fact that you can shape your character into at least seven (maybe more?) different player types (commando, assassin, engineer, etc…).
You also don't play alone.
That's right. Unlike most games, you're no Lone Ranger.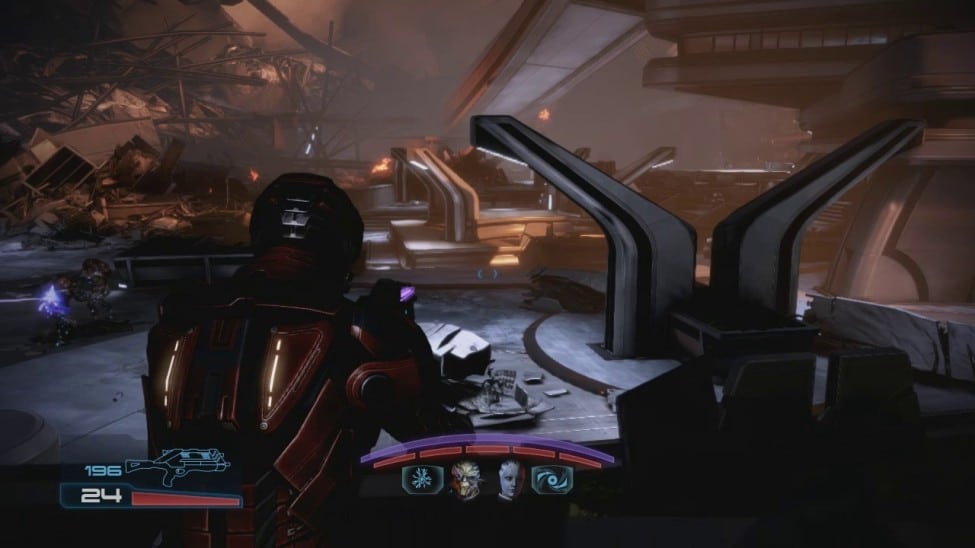 Shepard (the last name of your character), almost always has two squad members that accompany you. You can pause the game during the heat of battle, activate your own special skills or give your squad members orders to assist in battle. I just let them control themselves, the AI is really good.
I don't think I'm giving this game due justice.
At this point, I feel like I am just rambling.
There is so much depth to this game, it's hard to break it down (feel free to shoot me any questions in the comments or here).
After finishing Mass Effect, I started Mass Effect 2 (purchased all the mission DLC), and then a good friend of mine gifted me Mass Effect 3 along with all of it's DLC. 😀
Yeah. It was pretty awesome.
So, after 150+ hrs of gameplay with my first pass through of the whole Mass Effect series, I can wholeheartedly say that it is the best video game series that I have ever played—and will play through a few more times.
(Even if I did get the best endings possible (yes, that's right, there are several different endings).